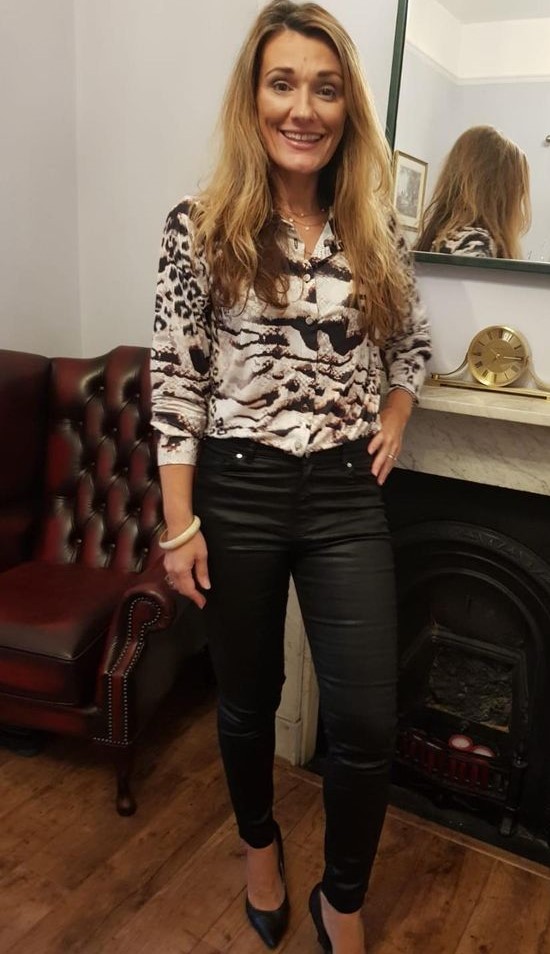 Hi,
I'm Angelika, a Functional nutritionist with over 15 years of experience working with busy perimenopausal and menopausal women who struggle with hormones, weight and gut health.
I use the 'food first' tailor-made approach for your body and functional medicine testing where needed, to find and treat the root cause of your health issues so you can thrive again.
I believe Every BODY is unique. This is why the 'one size fits all' standard medical approach doesn't work for everyone.
I have a special interest in perimenopause and menopausal women's health as well as fertility issues at later stages in life (I gave birth to my healthy baby girl at the ripe old age of 45).
I help women who are:
Struggling to lose weight but don't know why
Perimenopausal/ Menopausal with symptoms such as: brain fog (…am I losing my marbles?!) hot flushes, sleep, joint pain, vaginal dryness, sex and libido down the drain/partner is man(on)pause
Confused and don't know what to eat for their season of life
Struggling with digestive issues; bloating, constipation, diarrhoea, IBS etc.
Struggling with fertility / PCOS
Suffering with mood swings, low self-confidence that affect career and personal life
Lost their mojo and want it back!
I'm here to educate, empower and support women so that they can get back in control of their health and their hormones so they can look and feel better than ever after 40.
But, I did not always know how to do it right. Oh No! I used to be totally clueless as to how our hormones and our gut affect the way we look and feel.
And I get it. In my late 20's I ended up four stones (over 20 kg) overweight and a McDonald's junkie. But I fixed it and now a perfect '10'.
Then I hit 40's and everything changed!
Even though I was eating well and doing the right things (I'm a nutritionist after all), I was getting a barrage of symptoms that I was not ready for; brain fog (looking for that tin of paint while decorating… and finding it in a fridge), my joints hurting to the point I thought I was getting arthritis, which nearly stopped my daily exercise routine… little did I know that falling oestrogen massively affects our bones and collagen production.
On top of everything my husband and I were trying for a baby for over ten years. But nothing was happening and we abandoned the idea of having a baby.
I decided to properly test my body; my hormones, thyroid and my gut to see what is going on inside.
After all health is our biggest asset. We cannot do much if we are feeling crap. Can we?
And sure enough, my thyroid was not doing well with antibodies present indicating autoimmunity. I had H. Pylori bacteria that was wrecking my stomach as well as very low SigA (an indicator of poor immunity). Zouline was present too – which is a sign that I'm not good at eating too much gluten. And my cortisol (stress hormone) was through the roof.
So, I went and fixed those! And surprise, surprise – within 6 months, I got pregnant! At the ripe old age of 45, I gave birth to our beautiful baby girl.
Disclaimer: I'm not a fertility expert per se, but I know the right nutritional tools can help fix many conditions, including fertility.
Now I am helping women around the world to do the same – to take control of their own hormones and health.
And if you have tried everything but still not getting the results you want. I want to save you time and energy from googling, trying things but nothing sticks and show you how to get back on track once and for all.
How I can help you?
I will help you to get to the root cause of your problems rather than just help you manage your symptoms. Having a tailor-made programme targeted for your own unique imbalances will help you get much quicker and more effective results – after all, that's what we're aiming for!
I offer a bespoke one-to-one Mind over Food programme that includes:
Four Hour 'One-To-One' sessions over 2 to 3 months period depending on your progress (group sessions don't get you results as are too general)
Full health and medical history analyses
Functional health tests: the Dutch (hormone test checking your oestrogen, progesterone and stress levels/cortisol etc.), GI stool test (gut dysbiosis, gluten sensitivity, H. Pylori etc.) and full blood panel test (full thyroid panel, CRP, iron etc.) Please note: in some cases, we can use tests that you've already got. For more on testing I offer please check my website: https://nutritioninmind.uk/services/test-packages/
Tailor-made protocols based on gathered information:
o food-first approach by adding foods into your diet, rather than removing it (unless necessary).
o Lifestyle recommendations specific to you
o Therapeutic supplements – where warranted
o Facebook community support group to chat with like-minded women
If you are serious about your health and fed up with how things are going. Get in touch: email [email protected] or call 078 999 48682 today to arrange a free chat without obligation.
In your Health,
– Angelika
I am a fully registered nutritionist and Functional Medicine practitioner with over 15 years of experience. I have helped over 1000 women in private and corporate settings.
Fully registered BSc, MSc Nutritionist
Functional Medicine Practitioner (AFMCP) – blood and hormone tastings
Certified NLP (behaviour coach)
Certified "Confidence in the Menopause Programme" by Dr. Louise Newson Health
Member of the British Menopause Society (BMS)
Member of the Complementary and Natural Healthcare Council (CNHC)
Member of British Association For Nutrition And Lifestyle Medicine (BANT)
Created Workplace Wellness 'Lose Weight In Your Office' programme used by several companies
Nutrition editor for Local Mums Online (30 000 reach)
Given radio interviews and written articles on intermittent fasting