The course was a game-changer for me. I managed to lose over 5% (20 pounds in my case) of my body weight (20 pounds in my case) over the 12 weeks. All this without any faddy dieting but through following Angelika's teachings and tips. The most important thing for me was to keep a food diary (works for me) also a much better understanding of what I am eating and when! A really excellent start to achieving permanent weight loss.
Ruth G. – 18-2-2020
I have cut out fizzy drinks from my diet completely and have stopped snacking on sugary sweets between meals. Craving reduced so much…only 4 weeks into the programme. Thought will never happen to me!!! This is invaluable. Thank you, Angelika.
Mary B. – 05-05-20
I'm setting goals which I never did. I know where I'm going! I know what to eat when I weak up in the morning. I understand things – Finally!!!…. I lost 15 pounds in 2 months. I'm thrilled. My close fits.
Aysha. – 12-10-19
Angelika, is a fantastic nutritionist, she is passionate, knowledgeable, and to top it all has a great sense of humour. She explains facts and dispels myths and helps people overcome their habits to have a healthier outlook on life and is the ideal way to kickstart your journey to a better lifestyle.
Jayne Hunt, Global Broadcast Manager, Fitness & Social Lead, RBI Living Well. – 4-4-19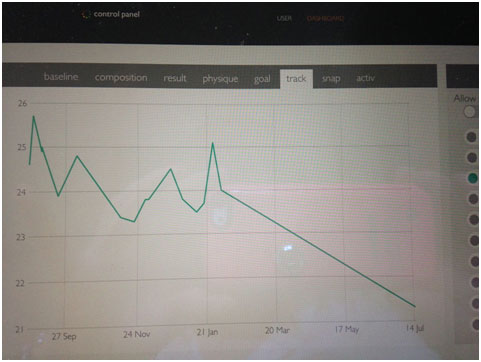 My goals from September was to lose weight and tone my body. I started with a personal trainer once a week from September until February. At this stage there was no alterations to my normal diet apart from increasing protein intake and reducing sugar. I wasn't happy with my progress and felt disappointed with my results. Angelika confidence in her 5/2 programme drove me to really focus on my diet which I thought was pretty good. The programme was initially challenging but over the weeks I could recognise food values and eating the right foods became second nature. Planning is the key and the programme is easy!! My fat mass has reduced from 24kg to 21.5kg from February to July and my weight has reduced from 69.7kg to 66.7kg. Weight loss has been fat loss. I am 42 years old and my metabolic age has reduced from 47 to 40 years old! I have more energy, feel less sluggish and my clothes fit better. I cannot thank Angelika enough for her approach and support. I have recognised this is a lifestyle choice and not a fad diet!
Miss Clark – 23-07-17
I am a 66 year old male significantly overweight. For around six months I was fairly successful with the 5/2 fasting regime but unfortunately let it lapse early in 2015. With my weight, well over 20 stone I started monthly sessions with Angelika in August 2015. I renewed my commitment to 5/2 but significantly got a lot of help from Angelika who is a keen advocate of fasting. With her mentoring, I have changed my eating habits for good, and I have steadily lost 20 per cent of my body weight in a year, feeling so much fitter, healthier and able to take more exercise – a virtuous circle.
In the course of our one hour sessions I have learnt a great deal about food and nutrition. Angelika is a professional nutritionist who maintains her accreditation by keeping on top of current developments in food technology, attending conferences and being willing to address, with appropriate research if necessary, any questions I have raised. I would thoroughly recommend her support for anyone in my situation.
Mr. Davies – 03-11-16
Having tried several highly recommended diets over the years, I have found this 5:2 diet which Angelika is promoting by far the most acceptable and effective one. Although I have only been doing this 5:2 diet a short time, I can honestly say it's by far the best diet I have tried. The theory is simple and well explained to me by Angelika. She guided me through the whole process with support and incredible patience. You don't get feeling of dissatisfaction with this diet, when she told me that l can eat pretty much whatever l eat in daily basis and have to follow fasting only for 2 days a week l was amazed. Oh and I really didn't think I could do fasting but I can. Angelika has been very inspirational and motivating, which is important to me, as l wasn't confident enough to start at the beginning, and follow it through. If you are serious about dieting and doing it gradually without having to completely change your eating habits, it is well worth giving it a try and using Angelika's help. Good luck
Mrs. Salomatkhon – 04-09-16
I am endlessly grateful for Angelika's help with my weight loss. Last year she introduced me to 5:2 diet, we found the suitable option for me and it worked several months – I was happy with my food intake and lost weight. When I got to the point I wanted I lost motivation and everything got back again. This June I asked Angelika to help me again, during our sessions I discovered that I am emotional eater, and she helped me to separate emotions from food, and was always there for me in stressful and tough moments where I would be usually eating cake or chocolate bar. We started when I was size 16 and 85 kilos, so far I am experimenting with blood type diet and I am size 10 now. I have to say that Angelika helped me to change my mentality about food, to understand better my emotions and how negotiate with myself. if you'd like together your perfect body and feel happy on the way to your goal, Angelika is the right person for you. She is professional, skilful, discreet, and ready to help with any advice for psychology, food recipes or sport exercises. Every step towards your goal will be easier and more enjoyable with her support.
Jenny M – 12-11-16
I thoroughly enjoyed my Nutrition session with Angelika. As a Mobile Massage Therapist for 24 years and Vice Chairman of The Sutton Complementary Health Network I am always very critical and expect everything to be at a very professional level when having any type of treatment/therapy/advise. I was not disappointed at all. Angelika is very knowledgeable and experienced in her field and explains things very clearly. The very next day I made an amazing health salad for lunch and really enjoyed doing it. I look forward in making a lot more healthier lunches and dinners under the expert guidance of Angelika. I have no problem in recommending her. In fact, if you want to know about Nutrition and Health you need to speak with Angelika NOW!!!!!
Theo – 5-11-15