The course was a game-changer for me. I managed to lose over 5% (20 pounds in my case) of my body weight (20 pounds in my case) over the 12 weeks. All this without any faddy dieting but through following Angelika's teachings and tips. The most important thing for me was to keep a food diary (works for me) also a much better understanding of what I am eating and when! A really excellent start to achieving permanent weight loss.
Ruth G. – 18-2-2020
I have cut out fizzy drinks from my diet completely and have stopped snacking on sugary sweets between meals. Craving reduced so much…only 4 weeks into the programme. Thought will never happen to me!!! This is invaluable. Thank you, Angelika.
Mary B. – 05-05-20
I'm setting goals which I never did. I know where I'm going! I know what to eat when I weak up in the morning. I understand things – Finally!!!…. I lost 15 pounds in 2 months. I'm thrilled. My close fits.
Aysha. – 12-10-19
Angelika, is a fantastic nutritionist, she is passionate, knowledgeable, and to top it all has a great sense of humour. She explains facts and dispels myths and helps people overcome their habits to have a healthier outlook on life and is the ideal way to kickstart your journey to a better lifestyle.
Jayne Hunt, Global Broadcast Manager, Fitness & Social Lead, RBI Living Well. – 4-4-19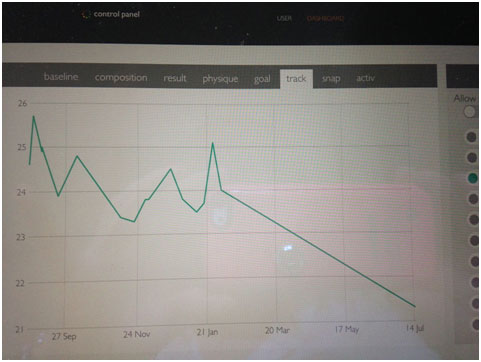 My goals from September was to lose weight and tone my body. I started with a personal trainer once a week from September until February. At this stage there was no alterations to my normal diet apart from increasing protein intake and reducing sugar. I wasn't happy with my progress and felt disappointed with my results. Angelika confidence in her 5/2 programme drove me to really focus on my diet which I thought was pretty good. The programme was initially challenging but over the weeks I could recognise food values and eating the right foods became second nature. Planning is the key and the programme is easy!! My fat mass has reduced from 24kg to 21.5kg from February to July and my weight has reduced from 69.7kg to 66.7kg. Weight loss has been fat loss. I am 42 years old and my metabolic age has reduced from 47 to 40 years old! I have more energy, feel less sluggish and my clothes fit better. I cannot thank Angelika enough for her approach and support. I have recognised this is a lifestyle choice and not a fad diet!
Miss Clark – 23-07-17